---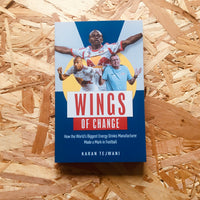 From the publisher:
Wings of Change is the story of how the world's biggest energy drinks company made its mark in football.
After years of success in beverages and extreme sports, Red Bull took over their local club, SV Austria Salzburg, controversially changing its name, crest, colours and history. While Red Bull were going strong, they faced a backlash from supporters who claimed they were damaging the integrity of the sport. Angry displays were seen at the ground and fans formed a phoenix club to honour the history of their former team.
Similar projects soon followed in New York, Leipzig, Sao Paulo and Sogakope and again provoked hostility. Within a few years, Red Bull had captured the attention of the footballing world, developing an exciting line of talent across the globe. Now an established force in football, Red Bull's two most successful teams, RB Salzburg and RB Leipzig, are more prominent than ever.
This book reveals how Red Bull changed the game, exploring their successes, controversies and innovations.
About the author:
Karan TejwaniTejwani is a football writer and trainee sports journalist at the University of Central Lancashire. He has written for The Guardian, These Football Times, Sport360 and various other publications and websites. He started writing in 2016 and is also the co-founder and lead editor of Football Chronicle. The Red Bull Empire is his debut book.
---
Pitch Publishing
22 x 14 cm
Paperback
224 pages
November 2020
English
9781785317293