---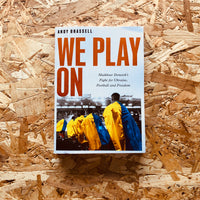 **PLEASE NOTE THAT THIS IS A PREORDER, SEE BELOW FOR FURTHER DETAILS**
From the publisher:
'We want to show to the world that we are alive. That we are strong. Not just us - the whole of Ukraine. We are continuing to play. We are continuing to win.' Darijo Srna

Shakhtar Donetsk have not played in their home stadium since 2014. Their matchdays now typically have no crowds, air raid sirens interrupt games and thoughts of and fears for family, friends and hometowns frontline troops loom large in the players' minds ahead of every game. These are extraordinary times - but Shakhtar is an extraordinary club.

Displaced when fighting first began in the Donbas region, and then again when Russia mounted a full-scale invasion of Ukraine in February 2022, this book honours a club - players, coaching staff, management - who choose to play on. In a time of chaos and conflict, they have become emblems of hope and unity. They are winning on the pitch, and winning hearts and minds across the world.

Following the club's meteoric rise from domestic team to domineering European contenders, expertly weaves a story of Shakhtar through the ages - their origin story after Ukrainian independence, their evolution and their reinvention. The war forced an exodus of star players and staff and the club has had to find itself once again. With direct testimony and exclusive interviews from those at Shakhtar, this book delivers unparalleled insight to the club's journey - one that is all too often hidden from view. The result is an ode to Shakhtar Donetsk, shining a light on the beauty and force of their football and their fight to play on.

The author:
Andy Brassell is a writer and broadcaster, specialising in European football. He works as a pundit across many forms of media for the likes of Talksport, the BBC, BT Sport, and ESPN as well as newspapers such as the Guardian, The Independent, the Daily Mirror and the Daily Star. Andy has been a long term fan of Ukrainian football, and has visited the country many times.

On the BBC, Brassell regularly contributes to BBC Radio 5 Live Monday Night Club, and the European football show. On talkSPORT he regularly features on Trans Europe Express with Danny Kelly, looking back at the weekend's European football action. For The Football Ramble, Brassell contributes weekly to their 'On The Continent' podcast with James Horncastle. He has featured on the Guardian Football Weekly podcast and The Totally Football Show. He has 80k Twitter followers @andybrassell.
Message from Stanchion:
Please note that this is a preorder. The book is published on 28 September, so orders will be sent around then.
Signed copies also available but please note that these will be sent in the days after our launch event in London on Monday 2nd October - more details here. If you would like a signed message/dedication, please include it in the 'Notes' section of your order.

---
Robinson

24 x 16 cm
Hardback
496 pages