---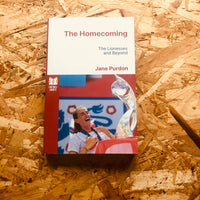 From the publisher:
The Homecoming is Jane Purdon's passionate, heartfelt account of the summer of 2022, when the Lionesses dazzled the nation and brought football home. It's also Jane's personal story. Since falling in love with football aged seven, Jane has been an activist, administrator and leader in the beautiful game, most recently as CEO of Women in Football.

Her journey takes in her early days as a Sunderland fan, her first kicks of the ball in her late teens, her pioneering work in the early 1990s to promote women's involvement in football, and her subsequent career at the heart of the football establishment. In 1992, Jane wrote, 'The England women's team winning the European Championship - now that is not a fairytale, it could just happen.' Thirty years later that fairytale came true. Jane reflects on what's happened to women's football in the aftermath of the Lionesses' historic victory and what needs to happen next.

The author:
Jane Purdon has a unique story to tell. A fan and a player, she has worked for more than 20 years at the highest levels of football. Nobody is better placed to tell the in-depth story of how football came home in the summer of 2022. An activist and thought leader, Jane is often called on to comment on football. She was recently awarded a distinction for her Master of Fine Arts in Creative Writing, and her writing has achieved competition success.
---
Pitch Publishing/Football Shorts

20 x 13 cm

Paperback

May 2023
9781801504843