---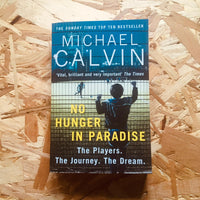 From the publisher:
"What's your dream, son?"A six year-old boy, head bowed, mumbles the eternal answer: "Be a footballer...." Steadman Scott, football's most unlikely talent scout, smiles indulgently, and takes him in from the street. He knows the odds. Only 180 of the 1.5 million boys who play organised youth football in England will become a Premier League pro.

That's a success rate of 0.012 per cent. How and why do the favoured few make it? What separates the good from the great? Who should they trust - the coach, the agent or their parents? Michael Calvin provides the answers on a journey from non-league grounds to hermetically sealed Premier League palaces, via gang-controlled sink estates and the England team's inner sanctum. He interviews decision makers, behavioural specialists, football agents and leading coaches.

He shares the hopes and fears of players and their parents. He exposes bullying and a black economy in which children are commodities, but remains true to the dream.
The author:
Michael Calvin is one of the UK's most accomplished sportswriters, having worked in more than eighty countries. He has covered every major sporting event, including seven summer Olympic Games and six World Cup finals. He was named Sports Writer of the Year for his despatches as a crew member in a round-the-world yacht race and has twice been named Sports Reporter of the Year.
His book, The Nowhere Men, a study of football scouts, won The Times Sports Book of the Year prize in 2014. He became the first author to receive the award in successive years, when Proud, his collaboration with former Wales and British Lions rugby captain Gareth Thomas, was named Sports Book of the Year in 2015.
In the same year Living On The Volcano, which exposed the pressures on managers, was shortlisted for the William Hill Sports Book of the Year prize. No Nonsense, his collaboration with Joey Barton, was named Autobiography of the Year in the 2017 British Sports Book awards.
No Hunger In Paradise, an insight into youth football that spawned a widely-praised BT Sport documentary, was a Sunday Times bestseller. State of Play, a study of the morality and social impact of modern football, was longlisted for the 2018 William Hill Sports Book of the Year award. He has been working closely with Thomas Bjorn on Mind Game to capture the unique nature of golf, and the principles and philosophies of the world's best players.
---

Arrow Books

20 x 13 cm

Paperback

464 pages