---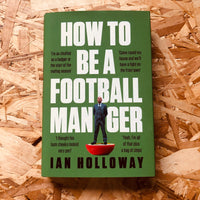 From the publisher:
The funniest and most entertaining sports book you'll read this year. 'Yeah, I'm all that plus a bag of chips''Come round my house and we'll have a fight on the front lawn''I'm as chuffed as a badger at the start of the mating season''I thought his bum cheeks looked very pert'Football management is like being a potato - you're never too far from the sack and everyone is constantly chipping away at you. It's not for the faint-hearted and unless you've got skin as thick as rhino and, more importantly, a wicked sense of humour, you've no chance of surviving.

Ian Holloway - aka 'Ollie' - has all the above and more besides. His press conferences are the stuff of legend. He's been there, seen it and done it in his 40 years as player and manager, and has been entertaining football fans on and off the pitch for most of his life.

He's been head honcho at clubs in all four divisions in English football, experiencing everything from the giddy heights of taking Blackpool to the Premier League to fighting relegation from the Football League with Grimsby Town. There's never been a dull moment. In the joyful How to Be a Football Manager, Holloway weaves a fantastically rich tapestry of hilarious anecdotes to reveal what being the boss is really like.

This is not a handbook to tell you when to play a Christmas tree formation or throw on a false nine - it's about dealing with the ridiculous, fighting your corner and always having a comeback.

The author:
Born in Kingswood in Gloucestershire in 1963, Ian Holloway has been involved in professional football for four decades.

In a long playing career 'Ollie' racked up 675 appearances across three separate stints at Bristol Rovers and spells at Wimbledon, Brentford, Torquay United (on loan) and QPR.

His managerial career spans 24 years, eight clubs and just shy of a thousand games in charge. He has taken the helm at Bristol Rovers, QPR (twice), Plymouth Argyle, Leicester City, Blackpool, Crystal Palace, Millwall and Grimsby Town. He got QPR promoted from Division Two in 2003-04, then achieved promotion to the Premier League with both Blackpool (2009-10) and Crystal Palace (2012-13).

He is married to Kim, has four children and lives near Bath.

---
Headline

24 x 16 cm
Hardback
320 pages
9781472298591