---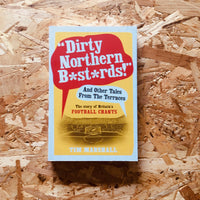 From the publisher:
"This is a book about football and Britain, and Britain and football. You can't fully understand one without the other; and if you haven't got a sense of humour it's not worth even trying."
"My name's Tim Marshall and it's been a week since my last match. I support a football club. That's not just five words; it' s a life sentence."
Why do so many of us attend football grounds, rain or shine, week in week out, to bellow at our fellow countrymen? Football chants are the grassroots of the game, from the Premier League all the way down to the Conference and beyond. They're funny. And they're sharp.

And in the UK they run very deep. In this witty and insightful account, Tim Marshall tells the story of British football through the songs and chants that give it meaning. This is a book about the fans, written for the fans, with all the flair and banter that bring the beautiful game to life.

No other sport has a culture quite like it.
The author:
Tim Marshall is a leading authority on foreign affairs with more than 25 years of reporting experience. He was diplomatic editor at Sky News, and before that was working for the BBC and LBC/IRN radio. He has reported from thirty countries and covered the conflicts in Croatia, Bosnia, Macedonia, Kosovo, Afghanistan, Iraq, Lebanon, Syria, and Israel. His blog Foreign Matters was shortlisted for the Orwell Prize 2010. He has written for newspapers including The Times, Sunday Times, Guardian, Independent and Daily Telegraph, and is the author of Shadowplay: The Overthrow of Slobodan Milosevic (a bestseller in former Yugoslavia). He is the founder and editor of TheWhatandtheWhy.com.
---
Elliott & Thompson

20 x 13 cm

Paperback

224 pages
9781783960606