---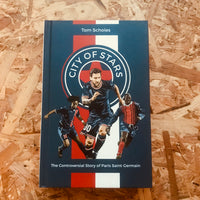 From the publisher:
City of Stars: The Controversial Story of Paris Saint-Germain is a detailed history of Europe's youngest super club, from their time as a small Parisian side in French football's Second Division to a global powerhouse that epitomises modern football. After many highs and lows and two major takeovers in the 1990s and 2010s, PSG have been catapulted to the forefront of world football thanks to Qatari billions and look set to remain a major force for years to come. But a deep dive into their history shows a club of tradition, loyal fans and remarkable players that preceded the Qatari era.

However, controversy seems to follow the club in one guise or another, whether it be violence from Ultras, business dealings from their owners or even being a title challenger affected by a match-fixing scandal. Paris Saint-Germain's history is rich, vibrant, polarising but never dull.

The author:
Tom Scholes is a French football and Paris Saint-Germain expert with over a decade's experience covering the league and club for various outlets, including Get French Football News, These Football Times and many more. Tom is the author of Stateside Soccer: A Definitive History of Soccer in the United States of America and is currently working for the world's biggest sports radio station, talkSPORT, as a social media producer.
---
Pitch

22 x 14 cm

Hardback

416 pages
9781801501538