---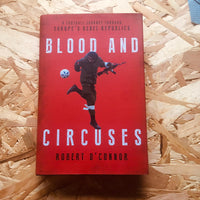 From the publisher:
In the last decade of the twentieth century, Eastern Europe was plunged into chaos following the disintegration of the Soviet and Yugoslav regimes. Politicians who had once jostled for power on the periphery of the Communist world suddenly became engaged in bloody campaigns as military frontiers sprang up across the region and new nations attempted to assert themselves. Journalist Robert O'Connor follows those peoples for whom sovereignty and freedom have come at the highest price, telling their stories from the perspective of the ultimate laboratory of social science, the football pitch.

For these communities, football has been used both as an act of resistance and as an act of rebuilding. In Blood and Circuses, O'Connor embarks on an odyssey through the conflict zones of Eastern Europe's rebel republics to investigate the role that football has played in the bloody inter-ethnic wars in eight of the region's disputed territories. He discovers how in this part of the world the beautiful game has served as a platform for the expression of identity and an outlet through which to escape the hail of bullets and the iron fist of repression.
The author:
Robert O'Connor is a journalist living in London whose work on the subject of football, politics and history in Eastern Europe has been carried by The Times, the BBC, The Independent, the Telegraph, the Moscow Times, the i, Foreign Policy, New Internationalist and Vice. He has travelled extensively through each of Europe's so-called 'frozen-conflict' zones, where de facto governments rule in defiance of international convention and civilians live with the consequences of cruel ethnic wars, economic collapse and unrecognised status. He is a graduate of the University of Sheffield and the Royal Central School of Speech and Drama, where he learned skills later applicable to the task of lying to border guards, flattering despots and dodging interrogation from gun-toting Slavic muscle men.
---
Biteback Publishing

22 x 16 cm

Hardback

320 pages